Aeotec Smart Home Hub: Specs
Size: 5 x 5 x 1.2 inches
Ports: Ethernet, USB
Wireless: Wi-Fi, Zigbee, Z-Wave, Matter
Works with: Alexa, Google Assistant
Range (indoors): Z-Wave: 100 feet, Zigbee: 40 feet
CPU: 528MHz ARM Cortex-A7
Memory: 256MB DDR
When Samsung decided to stop making hardware for its SmartThings platform, companies like Aeotec had to step up to fill the void. The Aeotec Smart Home Hub looks and functions just like Samsung's now-discontinued hub. Once you set the system up, it plugs right into the SmartThings platform, which is very approachable, yet very powerful for those who want to connect all of their smart home devices. In our Aeotec Smart Home Hub review, we'll go into why this is one of the best smart home hubs, and whether it's the right one for your needs. 
Aeotec Smart Home Hub review: Price and release date
The Aeotec Smart Home Hub first went on sale in January 2021. It's available on Amazon and other retailers for $134.
Aeotec Smart Home Hub review: Design
The Aeotec hub is identical to Samsung's now-discontinued hub. It's a rounded square that measures 5 x 5 x 1.2 inches. The top and sides are white, and the bottom is a light gray. Even the power plug that comes with the hub is made by Samsung.
On the back of the device is an Ethernet port, a USB port and a port to plug in power. Just like the Samsung SmartThings hub, the USB port on the Aeotec hub is useless, unless you need to diagnose any issues with the hub.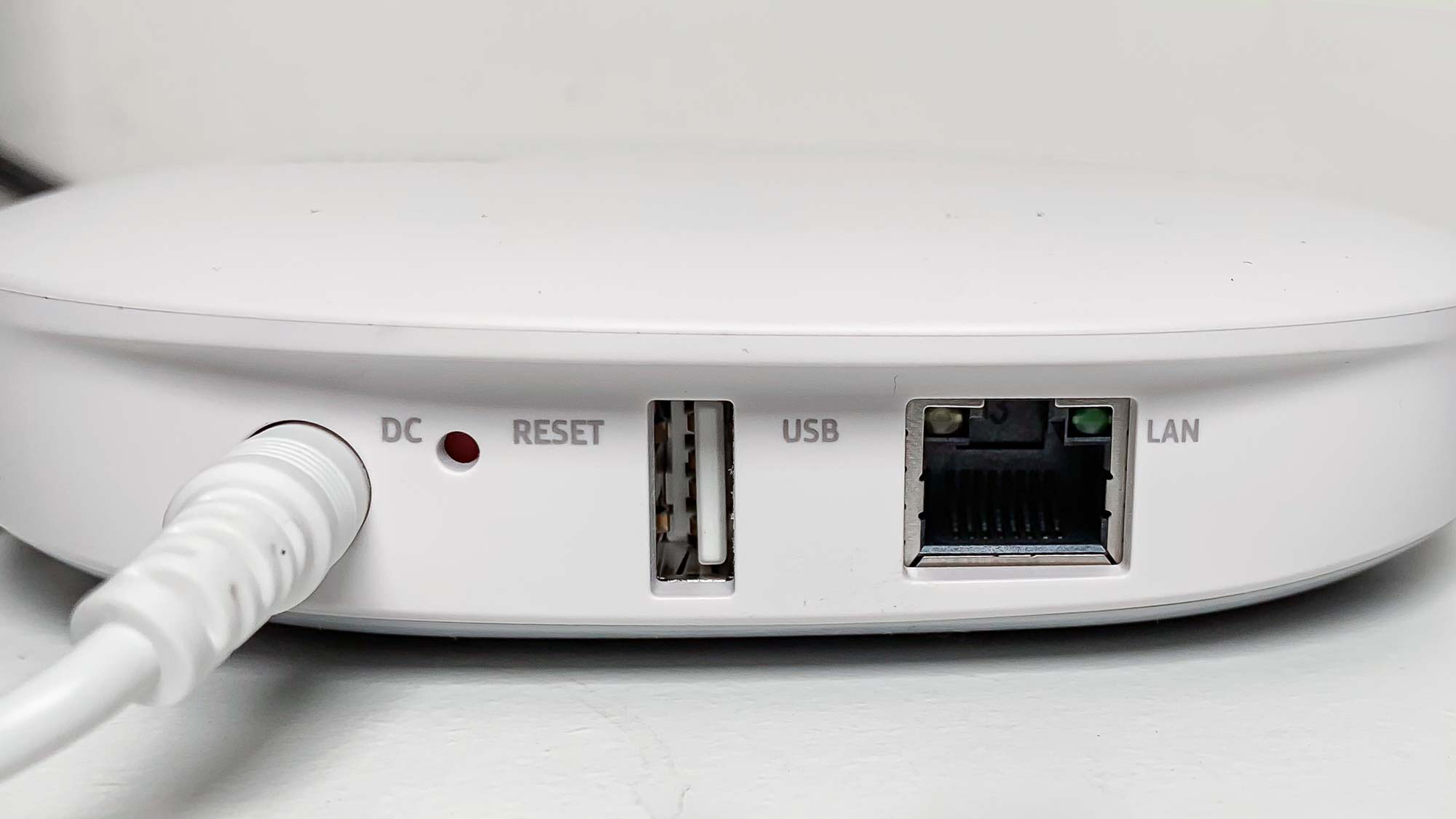 If you're upgrading from an older hub, be prepared to do some work. You have to first remove the older device from the SmartThings app, then manually reconnect all your smart home devices to the Aeotec Hub. If you're like me and have a ton of devices, this can take some time. However, if you're migrating from a SmartThings v2 or v3 hub, you can get Samsung to help. After setting up your Aeotec hub, log into your SmartThings account, note the Hub ID for both your SmartThings and your Aeotec hub, and contact SmartThings customer support at [email protected] to to begin the process.
Aeotec Smart Home Hub review: Interface
Since Aeotec's hub is designed to work with SmartThings, you use the SmartThings app to control everything.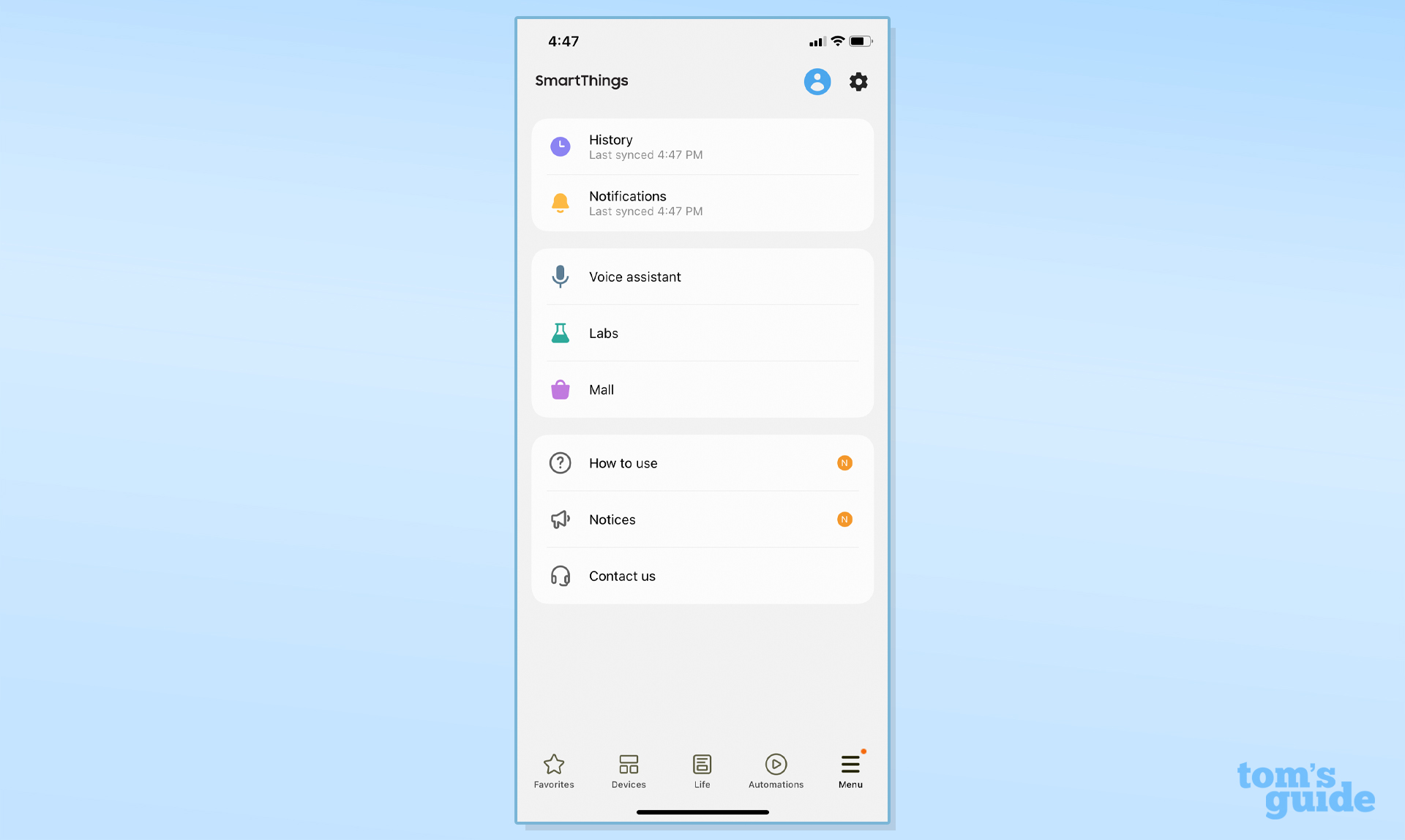 The home screen of the app shows a series of cards, each of which represents a connected smart home device. Each card shows the name of the device, an icon that represents that device (such as a lightbulb) and a button to turn that device on or off. If the device is off, the card will be grayed out. It's easy to see at a glance. If you have a connected home security camera, a thumbnail will appear on the screen. Tapping on any of these cards will bring you to a menu with further controls for that device. For example, if the device in question is a lightbulb, you'll get dimming controls, as well as the option to change its color.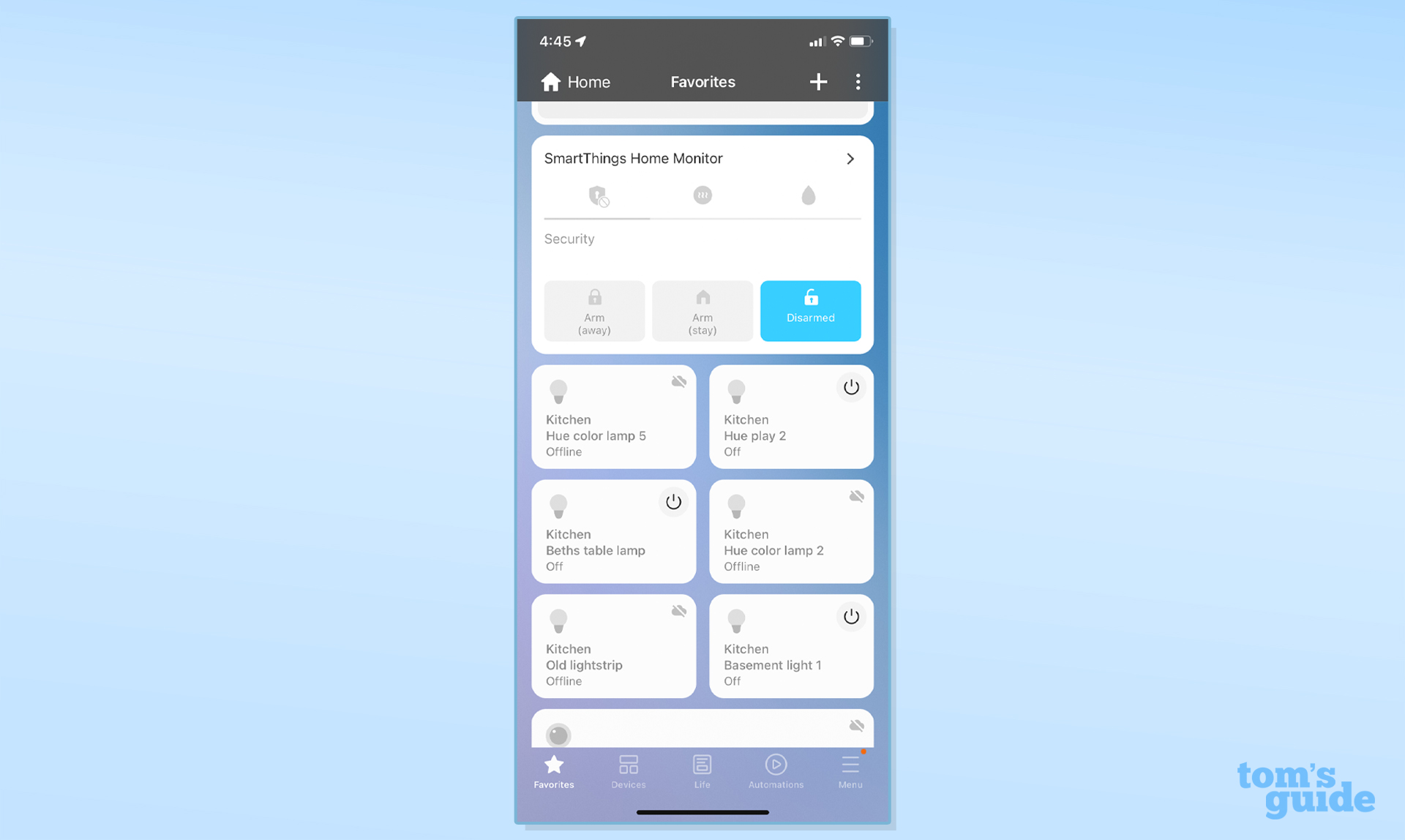 Select the Devices tab at the bottom of the screen, and you can see your devices grouped by room. Tap the Plus sign at the top of the Home screen, and you'll see a menu where you can add devices to SmartThings. Here, you can also create Scenes and Routines, which is where the true magic of the app lies.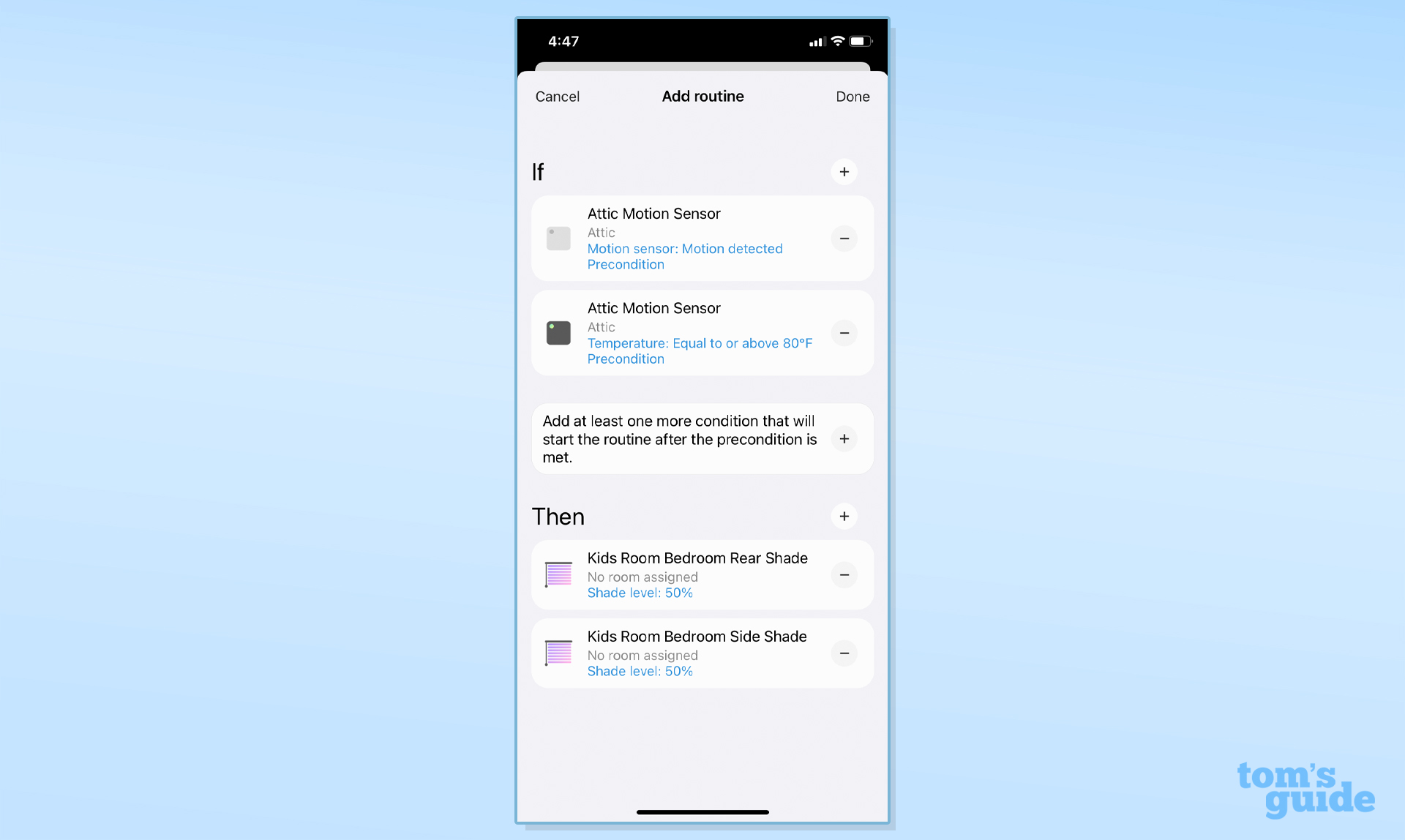 Both Scenes and Routines let you create a series of actions for your smart home devices. The main difference between the two is that you have to manually activate Scenes, whereas Routines trigger automatically based on criteria you set. The SmartThings app uses a very clear If-Then setup, which is exceptionally easy to follow, even for newbies.
It's very similar to Amazon's Alexa Routines, but SmartThings goes a bit deeper into what you can use as a trigger: time, device status, member location, weather, and security. For example, I could program SmartThings to wait until my Ecobee SmartThermostat was at 80 degrees and the system detected motion before telling my Sensibo to turn on my smart air conditioner.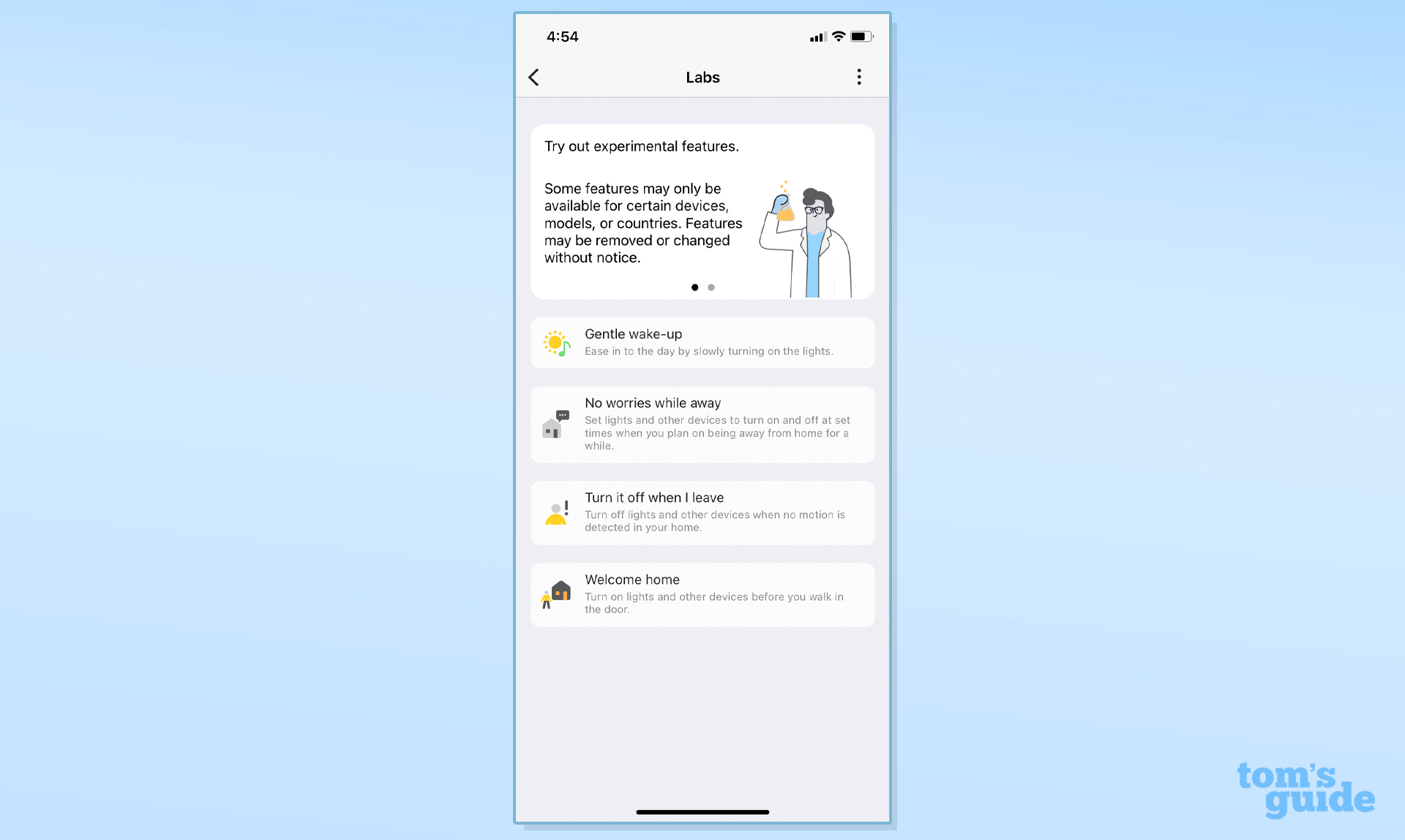 SmartThings also has an experimental section called SmartThings Labs, where you can try out new features. One such feature is called "No worries while away," and will turn your connected lights on and off randomly while you're away. It's a feature found in some of the best smart lights and best smart light switches, so it's good to see it here, too.
Aeotec Smart Home Hub review: Smart home compatibility
Like the SmartThings hub, the Aeotec hub will work with Zigbee, Z-Wave and Wi-Fi smart home devices. A company representative also said that it will work with Matter when that smart home standard becomes available. You can also connect and control it with Alexa and Google Assistant, but not HomeKit.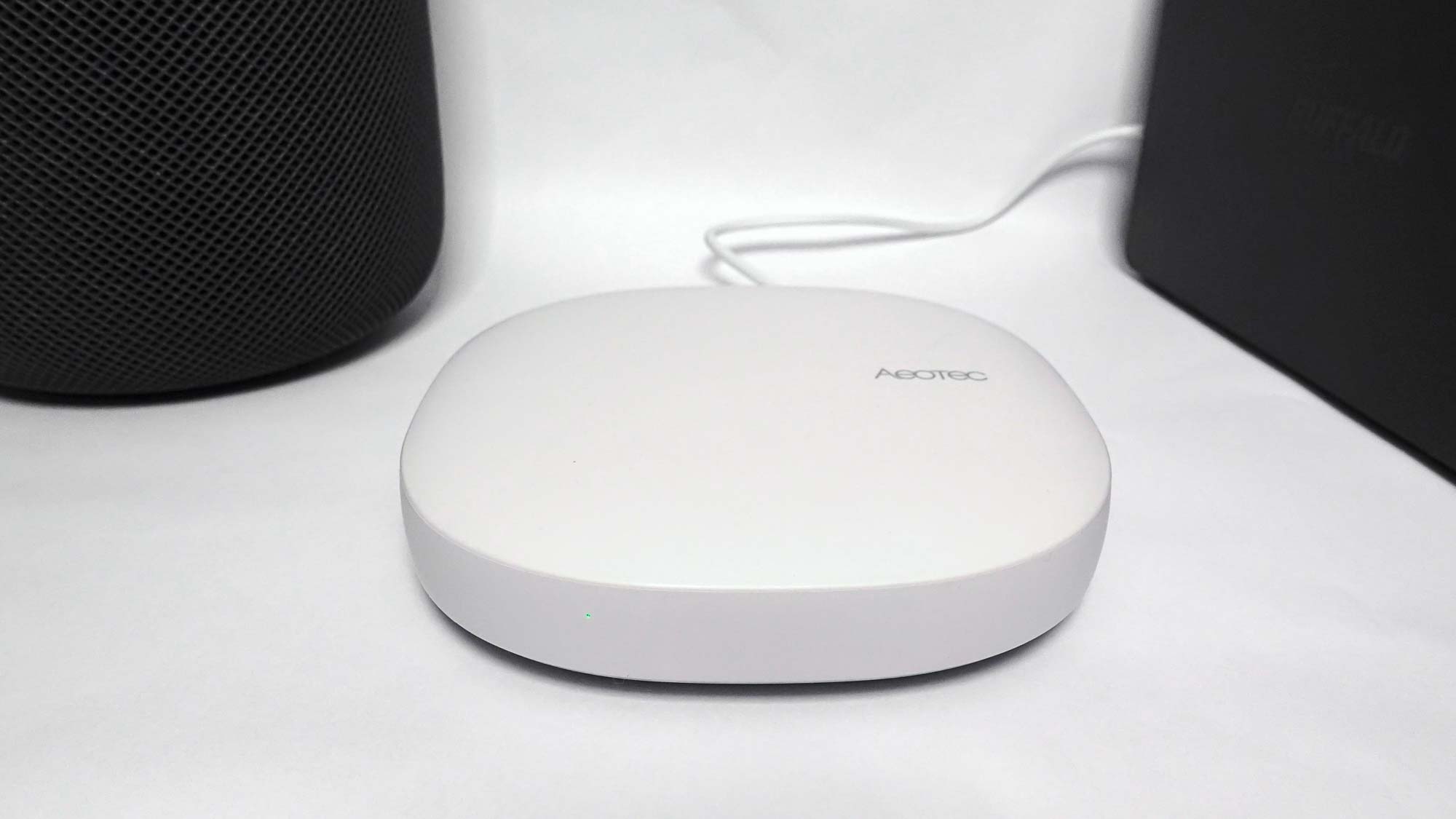 Anything that works with the Samsung SmartThings hub will work with Aeotec's, which is literally thousands of devices. (A full list of compatible devices is available here). This includes brands such as Arlo, August, GE, Philips Hue, Ring, Sonos and Yale. Among the best video doorbells, best smart locks, best smart light switches and many other smart home categories, there's a good chance that at least some will work with SmartThings. However, you won't find anything from LG or Sony, and GE products are limited to a few smart switches and plugs. 
SmartThings also supports some, but not all Nest products. At the time of this writing, it was not compatible with the Nest Protect, the Nest Doorbell (battery) and the Nest Cam (battery) — some of Nest's newest products.
Aeotec Smart Home Hub review: Bottom line
The Aeotec Smart Home Hub — and to a greater extent, Samsung's SmartThings platform — is one of the best smart home hubs. Its automations are generally more advanced than what you'll find with Alexa, and the Aeotec hub can link to both Z-Wave and Zigbee devices. Those who are more invested in Alexa's ecosystem may prefer the Amazon Echo (4th gen), which has a Zigbee hub built in; Alexa has some pretty good automations, too. But for those who need to connect to an even wider range of products, the Aeotec Hub is the best option.